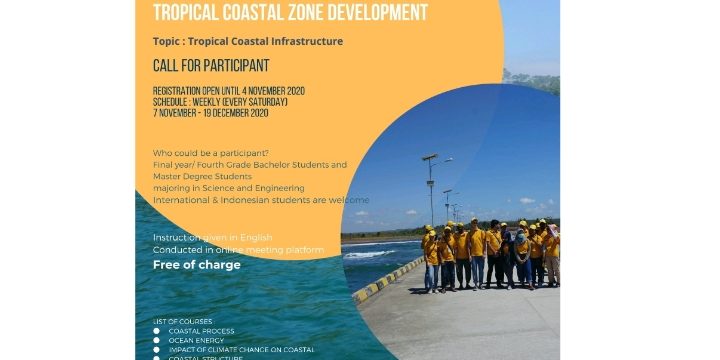 Topic:
Tropical Coastal Infrastructure
Organizer:
Faculty of Civil and Environmental Engineering
Institut Teknologi Bandung
Jl. Ganesha No. 10 Bandung – Indonesia
Date:
Virtual meeting, every Saturday whole day
7 November 2020 – 19 December 2020
Venue:
Virtual Meeting Platform (to be announced later)
List of Lectures and Instructors
Lecture 1    : Coastal Process (Dr. M. Bagus Adityawan)
Lecture 2    : Ocean Energy (Alamsyah Kurniawan, ST., Ph.D.)
Lecture 3    : Impact of climate change on coastal (Dr. Arno Adi Kuntoro, ST., MT.)
Lecture 4    : Coastal Structures (Eddy Rachman Gandanegara, ST., MT.)
Lecture 5    : Water Resources Development (Dr. M. Farid)
Lecture 6    : Coastal Sanitation (Dr.Eng. Ahmad Soleh Setiyawan, ST., MT.)
Lecture 7    : Solid Waste Management (Dr. Mariana Marselina)
Lecture 8    : Water Supply Engineering (Dr. Dyah Wulandari Putri)
Lecture 9    : Environmental Impact Assessment (Dr.Eng.Ir. Priana Sudjono)
Lecture 10 : Integrated Coastal Zone Management (Dr. Nita Yuanita)
Lecture 11 : Wind Energy (Prof. Moh. Zamri)*)
Lecture 12 : Water Supply Infrastructure (Assoc. Prof. Dr. Do Khac Uan)*)
Lecture 13 : Virtual Tour [Widyaningtias, ST., MT., Ph.D.and Asrini Chrysanti, ST., MT.]
Lecture 14 : Group Discussion
Program Cost:
FREE
Who could be a participant?
Final year/Fourth Grade Bachelor Student and Master Degree Student
Majoring in Science and Engineering Program
Internasional & Indonesian Students are welcome
Registration
Fill this Registration form and requirements; send via email to Trocoz@ftsl.itb.ac.id, CC to dyahwulandari@ftsl.itb.ac.id and psudjono@tl.itb.ac.id
FOR INTERNATIONAL STUDENT NON ITB please also access online registration here . Choose Course Theme 'International Course on Tropical Coastal Zone Development"
Registration Open until 4 November 2020
Contact: